Tree Service Costs 2016 (Estimates & Average Cost)
WHY DO TREES NEED PRUNING?
GET A FREE ESTIMATE TODAY!
Tree services in 2016 will cost you around $50 to $1500 with an average cost of $775 depending on the type of tree service you need. See below for the list of tree services and costs associated with them.
Keeping your trees, bushes, and landscape isn't just about having a more visually attractive yard but it can also help increase your property value and help prevent damages to your home. Trees near the house that have not been trimmed and maintained can cause sever damage to the roof if branches break loose and fall. Even having small branches and excess leaves on the roof can cause gutters to back up and lead to leaks in your roof. Having professional tree service is the best way to get the job done, have a more beautiful yard and keep your home safe. Knowing what it will cost helps protect consumers from getting gouged. This is our tree service cost guide for 2016. It includes the estimates for each type of service and the average costs.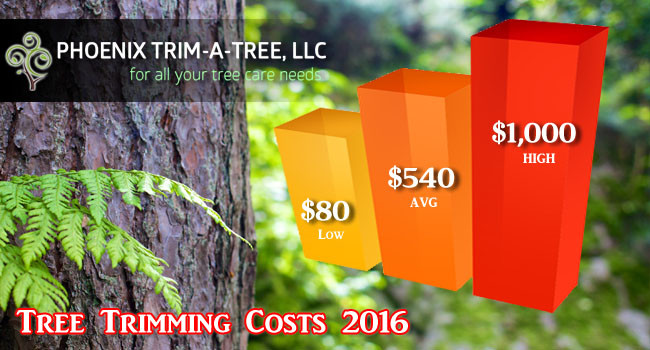 Tree trimming involves the shaping of a plant to achieve a certain design and structure. The art of Topiary is the art of clipping trees to create ornamental designs. Trimming is a part of this process. This is a popular option for people wanting to shape their trees into geometric shapes to set their property apart. It can also be applied to hedges and other plants. A good example most people know for trimming is the shaping of the Japanese Bonsai tree.
Tree trimming costs in 2016 were around $80 to $1,000 with an average tree trimming cost of $540.
Trimming a tree that is 30ft tall or less will cost you around $80 to $475 with an average cost of $277.50
Trimming a tree that is 30ft to 60ft will cost you around $145 to $900 with an average cost of $522.50
Trimming a tree that is 60ft or taller will cost you around $200 to $1,000 with an average cost of $600.00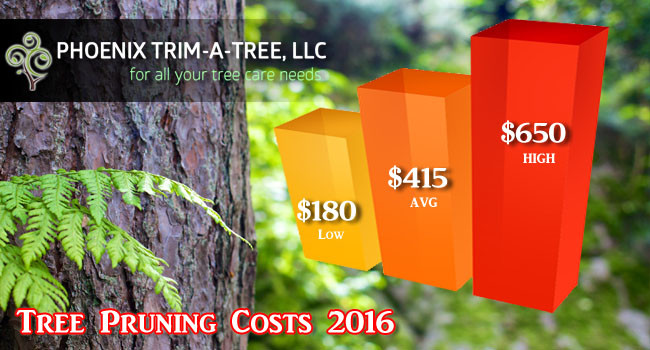 Tree pruning is similar to trimming, yet it is much more selective. When experts prune a tree the buds, twigs, roots, and branches all play a part in enhancing and creating the intended shape of the tree. Pruning generally results in more open structures between branches, in contrast to trimming which can create tight groupings of branches, twigs, and leaf cover. Pruning trees also involved identifying dead or diseased branches from your tree or plants. This keeps the whole tree healthier.
Tree Pruning Costs in 2016 were around $180 to $650 with an average cost of $415.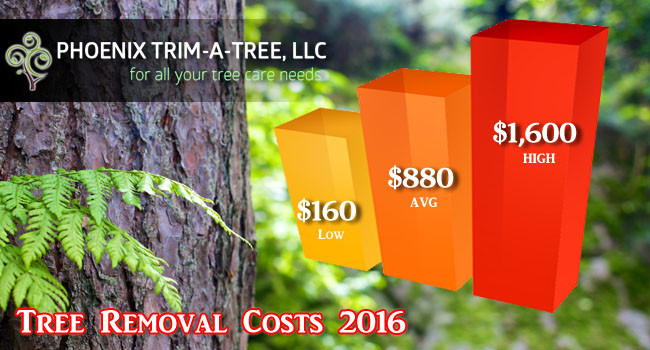 Many projects that involve heavy machinery on a property or remodeling projects that expand the footprint of the house require tree removal. Trees also get diseased and die in our yards, either from drying out, over watering or having an excess of pests. When trees are dead in on our properties they pose serious risk to properties near them. The wind can kick up and land that once beautiful and giant Oak tree right onto your roof, your car, or the neighbor's property. It is best to get rid of trees that pose risks or are preventing the expansion of commercial or residential properties.
Tree Removal Costs In 2016 were around $160 to $1,600 with an average tree removal cost of $880.
Removing a tree that is 25 ft tall or less will cost you around $145 to $510 with an average cost of $327.50.
Removing a tree that is 25ft to 75ft will cost you around $210 to $1,050 with an average cost of $630.
Tree removals on trees that are 75t or taller will cost you around $1,000 to $1,500 with an average cost of $1,250.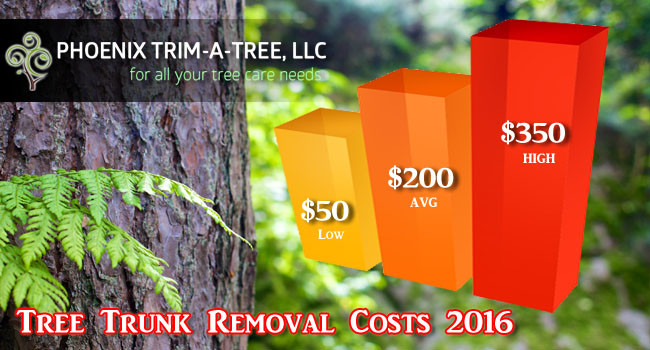 Once the limbs, branches, and twigs are removed from the trunk of the tree you have a large, heavy monolith standing in your yard. Safe removal of the trunk is the most critical part of the tree removal process. Safe removal is done in sections with lifts or cranes. Simply letting sections of large trunk fall to the ground is unsafe for workers, and unsafe for the property. Trunk sections are either loaded into the chipper or larger sections are hauled off by trucks or trailers.
Tree trunk removal or tree stump removal costs in 2016 were around $50 to $350 with an average tree trunk removal cost of $200.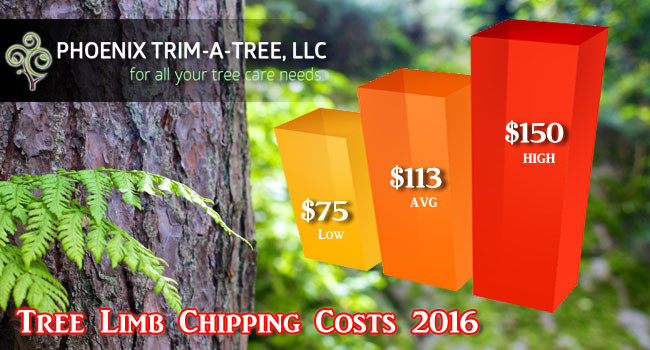 Most homeowners don't want to just stack up the limbs, branches, and trunk of a tree that is cut down on their property. It takes up space and wood piles tend to attract termites. Professional tree removal generally includes the limb chipping and removal of all the cut tree material. Even when you have trees pruned or trimmed chipping is a normal part of the process to help remove the materials from your property and leave it beautiful and clean.
Tree chipping costs in 2016 we around $75 to $150 with an average tree chipping cost of $112.50.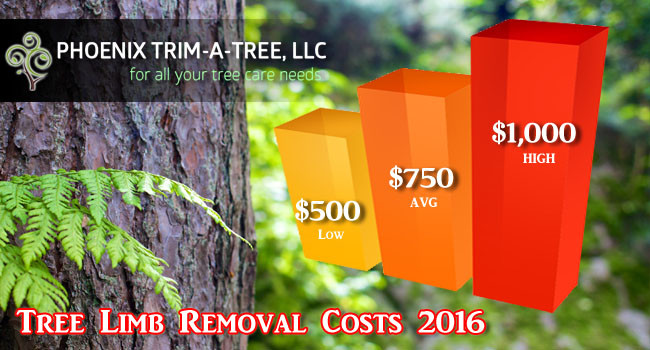 Trees can be wide growing shade giving beloved elements of any landscape. However we have power lines, phone lines, houses, and other things that it would be better if the limbs of trees do not make contract with or hang over. Most power and phone companies offer free limb removal if your tree is interfering with the lines. If that isn't the case, or you want professional limb removal around these areas you can hire a tree trimming company. They will remove limbs that are reaching out for things that you don't want damaged. They will also have your wishes in mind in the way that limbs are removed near power lines and won't take the easy, chop everything away, approach.
Tree limb removal costs in 2016 were $500 to $1,000 with an average tree limb removal cost of $750.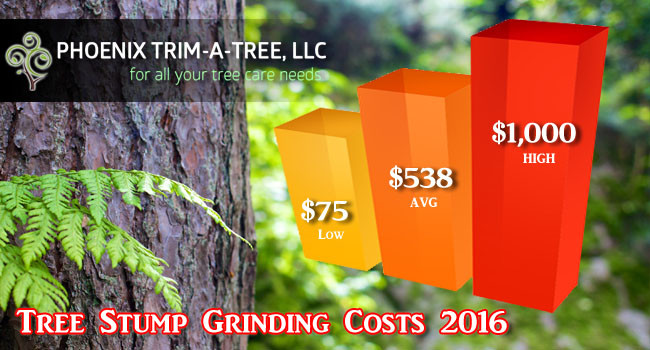 Professional tree removal usually involves the removal the trees in sections until the ground is reached. This is done to control the removal of large and heavy sections that could fall and pose a risk to property or people in the area. This leaves a stump that many homeowners want removed. A specialized machine called a tree stump grinder is used to completely erase the tree's stump from your yard. Even if you have had a stump in your yard from the last homeowners or cut the tree down yourself having professional stump grinding takes saves you a lot of frustration and work. Stumps are incredibly tough and stubborn.
Tree stump grinding costs in 2016 were around $75-$1,000 with an average tree stump grinding cost of $537.50.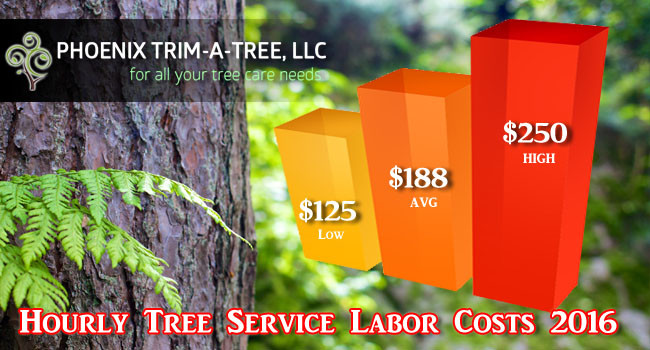 Professional tree service labor requires training for safe use of the chainsaws, trimming equipment, lifts, cranes and all the equipment used to work on trees. It also involves detailed training on how to prune and trim trees properly to achieve the desired shapes and encourage growth without stunting the tree. Quality tree service is done by these highly trained professionals and their helpers. Safe tree removal takes a team of people working on and off the ground.
Tree service labor costs in 2016 were around $125 to $250 an hour with an average hourly labor cost of $187.50 an hour.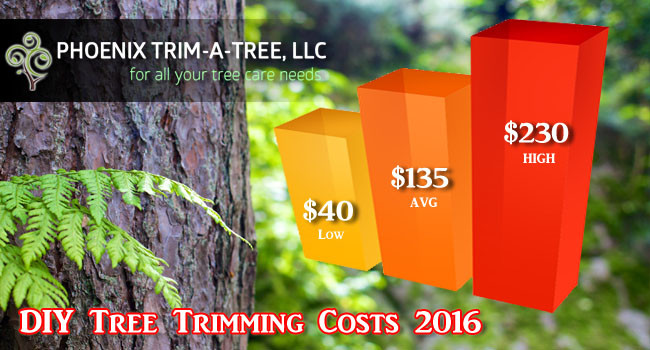 Some homeowners are weekend warriors and love the feeling of accomplishment when they care for the property they own. A lot of jobs are within the breadth of the homeowner but do require time and specialized tools. If you want to trimming your tree yourself you will need to get the right tools to make the job easier and safe. Simply walking out your down with an axe like Paul Bunyan isn't a winning plan. Getting a lopper, pruner, and pole runner is just some of the tools you will need to do the job of a professional tree trimmer.
DIY tree trimming costs in 2016 were around $40 to $230 with an average DIY tree trimming cost of $135.
How much does it cost to buy a standard pruner or lopper in 2016? $150 to $180 with an average cost of $165
How much does it cost to buy a pole runner in 2016? $45 to $60 with an average cost of $52.50